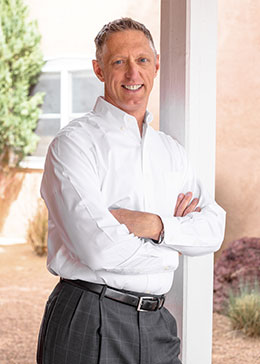 James F. Wolcott, DDS
Dr. Wolcott received his D.D.S. from the University of Colorado Health Sciences Center in 1992. He completed a General Practice Residency at the University of Tennessee Medical Center in 1995 and pursued advanced training in endodontics at Albert Einstein Medical Center, where he received his Certificate in Endodontics in 1998. He spent 13 years as a partner at an endodontic practice in Colorado Springs before opening Endodontics of New Mexico in 2012.
Dr. Wolcott's professional affiliations include his position as clinical assistant professor at the University of Colorado School of Dentistry, and Diplomate of the American Board of Endodontics. An active member of the American Association of Endodontists, Dr. Wolcott served on the Editorial Board for the Journal of Endodontics and represented District V on the Association's Board of Directors. Dr. Wolcott has authored numerous peer reviewed articles as well as textbook chapters.
Raised in New Mexico, James has returned to raise his own family and work with the Santa Fe dental community to offer specialized endodontic treatment and emergency care to the patients of North Central New Mexico.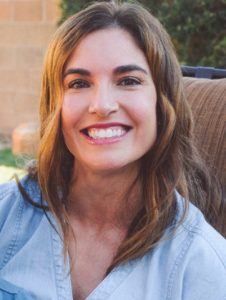 Amber Miller, DDS
Amber Miller, DDS, MS, grew up in Farmington, New Mexico. She earned her bachelor's degree from New Mexico State University. Dr. Miller received her DDS from the Creighton School of Dentistry in 2011. Following graduation, she commissioned with the US Air Force and completed a 1-year Advanced Education in General Dentistry (AEGD) at Langley AFB, Virginia. She practiced at Kirtland AFB in Albuquerque, New Mexico, for three years prior to her acceptance into the joint University of Texas Health and Science Center San Antonio (UTHSCSA) and Air Force Endodontic program. In 2017, she earned a certificate in endodontics and a masters in oral biology. Dr. Miller was the Chief of Endodontics at Scott AFB and full-time faculty for the AEGD-1 residency program from 2017 to 2020.
Dr. Miller's professional affiliations included faculty appointments with the Southern Illinois University School of Dental Medicine and the Uniformed Services University of the Health Sciences. Dr. Miller is published in the Journal of Endodontics and received her diplomate status with the American Board of Endodontics in 2018. She is an active member of the American Association of Endodontists. In her spare time, she enjoys spending time with her family and enjoying the outdoors.